You have full control over where to invest the environmental capital of your company. Because it is not necessary to complicate things that are simple: using CLIMATETRADE MARKET is as easy as choosing the projects that best suit your needs, and clicking. Total traceability and trust are the results.
At CLIMATETRADE we only offer proven projects that meet all of our quality guarantees. Our team reviews each and every one of them so that you only have to decide which ones interest you the most.
Proven projects that fit your needs
With all the information
For you, it is very important to choose correctly. Therefore, we provide you with all the necessary information about the projects we offer.
Classifieds
All our projects are classified by territories and SDGs so you can easily filter.
For all needs
Our projects are also classified to easily identify their category:
Carbon Offsetting Projects: Carbon neutral projects
Nature-based Solutions: Sustainable projects in other areas
Guarantees of Origin: Optimal Projects for Scope 2
Getting started is very easy
Do you want to start operating in our Market?

Register on our platform to navigate between our projects and start operating.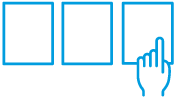 Choose the projects that best suit the objectives and territories of your company.

Once purchased, we send you a certificate so that you can follow your investments with total transparency.